Navigating Grief Through the Holidays with The Spirit of Grace
Published: Thursday, December 11, 2014
by Guest Contributor Christine Gregory Campos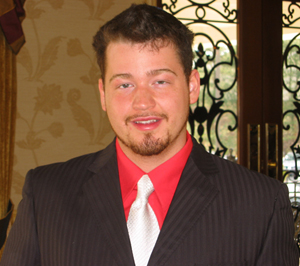 If you've experienced the passing of your loved one, it doesn't take long to recognize that grief is a journey. It's never the same for any one person. It's very personal. Navigating grief through the holidays can be overwhelming and traumatic.

This is the third Christmas I will spend with the physical absence of my 23 year old son Brendon. I am sharing my journey with you in the hopes that something I share can help shift something in you, that if you too are facing the holidays with grief, that it may somehow help you find your journey a little lighter.

My saving grace is my belief system. If I didn't believe that my son's spirit goes on, I would not know how to start this conversation. I believe spiritual beliefs are also very personal, and each of us are can be strengthened in our own ways if we can clearly identify what we really believe. My beliefs are my pillars of strength.

I am graced with believing that we are here on a learning journey and that when our mission is finished we return to Spirit. I believe we have Spiritual Groups and that we will see each other again. My journey of grief has taught me grace. I've learned my thoughts and words will influence much of my day. One morning, I woke up and started reliving in my mind the morning I got the news about my son, and all of a sudden I heard, "cut it out mom, why are you insisting to re-traumatize yourself over and over?" Then I saw a picture of me looking backwards. Then I heard, "you can only drive facing forward." Okay, got the message, face forward. Be aware of when I am looking back. Often times the only purpose looking back can serve is to relive the trauma.

Another time I can recall I had a really difficult grief day. The next morning I woke up and spoke to Brendon and said, "Okay I need some help here. I need a better day than yesterday." That same morning I opened up an App on my phone and it prompted me to download another App (Hay House Radio). It was free so I said "why not." Who was on air but James Van Praagh and other than the non-coincidence of him interviewing a women who had a very close story to mine, James said "Don't look at them as dead." I said thank you for that insight into my belief system. What do I really believe about the word dead? What have I been taught to believe that really means?
During my journey, I also came across the work of Rev. Terri Daniels of the Afterlife Awareness. Terri too had experienced the passing of her 16 year old son. She states "The way we perceive death is a choice." She believes that our belief systems are at the heart of how we experience grief. Saying "A parent should never lose a child" she answers "who said?" She goes on to say "What if your child was on a mission and their mission was complete? They were ready to graduate and go on to the next lesson. Would you want to stop their soul's mission?" Okay Spirit thanks for that message too, I am starting to understand that my beliefs and thoughts create much of my journey of grief.
This journey has clearly taught me that yesterday is not something I can change. So I've stopped trying. I no longer look at life nor any human I know in the same way I did before my son's passing. Each second I spend with someone is immensely precious. I count my blessings over and over.

I thought I was doing a pretty good job of healing my grief and then experienced some hypnotherapy in relationship to grief. Hypnosis and hypnotherapy are not the same. Hypnotherapy works on the emotions. The experience provided me the opportunity to truly sense the oneness I share with Brendon. The kind of oneness that lives forever in my heart. The oneness that death cannot take from me. Hypnotherapy provided even more grace for me on my journey.

Grace is a gift, and for me grace was what created the shift. I encourage you to look for the grace on your grief journey. It makes the unbearable bearable. I know that for me, Brendon would be so mad at me if I moped around and was sad all the time. He had a very funny way about him, and to honor his life and celebrate his being, I make a conscious intention to keep the joy of him close in my heart and mind.

If you are seeking some relief in your journey of grief, I invite you to the Online Conscious Community Class Monday at 7:00 PM EST. where perhaps you can begin to discover the grace Spirit has waiting for you. I can assure you this gift will be as personal as your journey!

From my heart to yours, sending you healing love and light to surround you this holiday.

Namaste.